Saturday, December 30, 2006
Nokia 6300

The Nokia 6300 is a thin mid-range Series 40 monoblock design phone. It weighs 91 grams and is less than 13.1mm thin. The Nokia 6300 is expected to begin shipping during the first quarter of 2007 with an estimated retail price of 250 euros before subsidies or taxes. The phone has a stainless steel frame. The Nokia 6300 has a 2 megapixel camera with zoom, expandable memory, built-in MP3 player and FM radio. It supports EGSM900 GSM1800/1900 and EGSM850 GSM1800/1900 networks.

The Nokia 6300 key features

- 2 megapixel camera, 8x digital zoom
- 2-inch QVGA display
- Video: QCIF (176 x 144 Pixel)
- USB/PC Synchronization
- In-box memory of 135MB, with support for 2GB microSD cards
- Voice dialing, voice commands and voice recording
- MP3 player, FM radio
- Integrated hands-free speaker

Dimensions: 106.4 x 43.6 x 13.1mm
Weight: 91g
Volume: 56 cc
Standby time: Up to 14 days
Talk time: Up to 3,5 hours
Display: QVGA 320x240, 16.7 Million colors
Battery: BL-4CBattery (860 mAh)
posted by Labanon @ 1:15 AM

Sunday, December 24, 2006
Nokia to sell equipment to Megafon
Finnish telecommunications equipment manufacturer Nokia said on Friday that it had won a contract worth more than 320 million euros (422.4 million dollars) to sell network equipment to Russian telecom operator Megafon.

Nokia is to provide equipment and services to enable Megafon to develop its mobile telecommunications network, the company said in a statement.

Chief executive of Megafon, Sergey Soldatenkov said: "The Russian mobile communications market is no longer driven by price competition but instead (by) network quality."

posted by Labanon @ 12:50 AM

Wednesday, December 20, 2006
Samsung Drift
If you're looking for GPS functionality in a very small handset with a killer screen, the Drift is your man. Google Maps works amazingly well, thanks largely to it just being a well-written application. Even in dense urban area with tall buildings, the GPS is surprisingly accurate. If you're in the suburbs, it's dead on.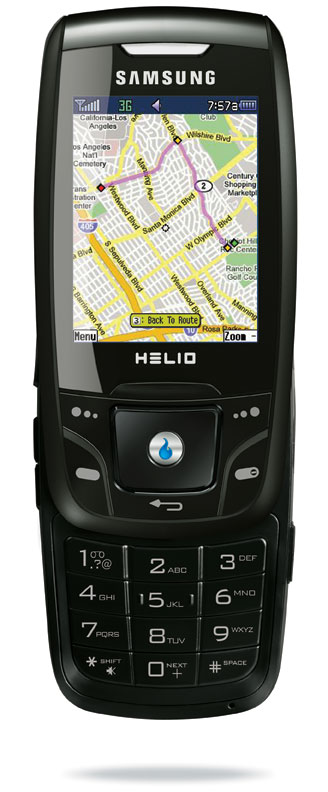 Helio's web site makes some pretty fanciful claims about its capabilities that I have to take issue with though. First of all, "3G" is far from lightning fast. Sustained transfer rates may be significantly higher than they used to be but what good is a 700kbps connection if you have to wait five seconds every time you click on a link? Latency seems as bad as it ever was.

MySpace mobile is a complete and utter joke. They make it sound like a custom front end was written and optimized for the mobile experience but I can assure you, that's far from the case. All you can reasonably do is check bulletins and email. Browsing through profiles is effectively impossible since it doesn't seem to load any images.

One minor bummer I found -- and this is true of all sliders -- is that with a single LCD, using the phone as a watch is kind of a pain. I miss the monochrome external LCD of my PEBL since you can see it even in dim light without having to turn on the backlight.

For some reason, I can't get Gmail in any form whatsoever on this phone though. I've tried every URL I can think of, including their mobile-optimized gmail.com/app, none of which return any kind of result. Being a Gmail user, this is a deal breaker for me. What I don't understand is how this oversight happened when they obviously have a partnership with Google.

The bottom line is, if a sweet looking phone with GPS is what you want, look no further. Just don't expect any kind of real web surfing to be going on, despite Helio's claim: "It's your internet; we haven't built any walls around it"

They say that but yet they also say that they'll optimize sites for mobile use. Whatever
posted by Labanon @ 1:15 AM

Tuesday, December 19, 2006
Nokia E60

Here´s my Nokia E60 hands on review. I have now been using the Nokia E60 Business Smartphone for two weeks and I have nothing to complain about. Because the E60 lacks camera and radio I couldn´t use it as my personal phone, but for business use it´s propably a good choise.

The Nokia E60 is a standard candybar phone and compared to other Nokia business phones (9500 or 9300i) the E60 is somewhat smaller and also cheaper. Weight is 117 g (with Nokia Battery BL-5C) and dimensions are 115 mm x 49 mm x 16,9 mm.




E60 Technical Key Features Are:

- Symbian OS v9.1, Series 60 3rd Edition
- 64 MB internal memory
- WLAN (WiFi) and Internet call over WLAN
- 3G (UMTS)
- Bluetooth, Infrared and USB support
- EGSM 900, GSM 1800, GSM 1900 and WCDMA (3GPP Release 99) networks in Europe, Africa, Asia-Pacific, North America, and South America

What Else
I did very much like the basic look and feel of the E60. It´s a very solid phone and has no gaps between parts. If you have driven a German car you know what I mean (American cars are also good :-). I´m no big fan of slim or plastic phones because I´m afraid I might brake them. With the E60 I didn´t have to worry about that. The buttons can be pressed without problems and usability is good. The five-way scroll also worked well and better than on some previous Nokia's.

The E60 has a high-resolution TFT 16 million colors display with 352 x 408 pixels. The Nokia web browser and a RSS reader is pre installed.

Business Phone
The E60 has many useful business phone features and one of them is the support (read, editing and creating new files) for Word, Excel and PowerPoint documents. The E60 phone can also connect to a printer (only HP?) via Wi-Fi, USB or Bluetooth.

Navigation & GPS
Nokia E60 has the Positions, Navigator and Landmarks applications pre installed. These applications are meant for an external GPS device and you can connect to a GPS receiver via Bluetooth and then connect to the satellite for incoming data. Useful? You decide!




The E60 supports a lot of connections; GPRS, EDGE, Wi-Fi, UMTS, PTT, Bluetooth (1.2), IrDa and USB.




More technical spesifications for the Nokia E60

E60 Video Review
No big secrets are revealed in this video (my first one in english), but you get to see the phone from different angles...
posted by Labanon @ 2:56 AM

Monday, December 18, 2006
Nokia 2610
Phone Features


Voice
Integrated handsfree speaker
Voice recording3
Record your voice and use it for a ring tone

Multimedia Messaging Service
Nokia Xpress Audio Messaging - record your voice and send it as a message1,14
Open and forward messages with text, sound and photos via MMS1,14
Send messages with downloaded images, sound and text1,14
Text and instant messaging1
Write faster with predictive text input

Display and User Interface
128 x 128 pixels
Up to 65,536 colors
Large easy to use keypad
4-way scroll button, Enter key, 3 soft keys, send and end keys
It's easy to get to your favorite features using the "Go-to" menu
Demo mode

Connectivity
Get the information you need on the go with the mobile Internet1,2,12
Connect faster with GPRS thecnology1,15
XHTML over TCP/IP1

Organization
2 MB internal memory
Phone book with up to 300 contacts†
Calendar with weekly or monthly views
Reminders and notes
Alarm clock
Calculator
Converter
Expense Manager

Personalization & Fun
Preloaded MP3 and polyphonic ring tones, themes and wallpapers
Download more images and ring tones
Preloaded games
Java MIDP 2.0

Specifications
Weight: 3.21 ounces
Dimensions: 4.09 x 1.69 x 0.71 inches

Service
GSM/GPRS 850/1900 MHz

2610 Phone Battery Life
Standard Li-ion Battery 970 mAh
-- Digital Talk Time up to 4 hours*
-- Digital Standby Time up to 12.5 days*
posted by Labanon @ 3:53 AM

Sunday, December 17, 2006
Sanyo M1
First off, I researched this phone for weeks before I bought it, even though I knew I was going to purchase it. I am always interested in others opinions. Having owned many sanyos, starting with the old SCP's, I know their quality and service. Everyone that has posted that has compared them to thier samsungs is way off base. Not even in the same league in service, which for the most part, is what phones are for.


If you are a sanyo user, this phone is great. The size and weight are very reasonable, especially if you are coming from a 9000 (as I am). So disregard the person who said it was a "brick". I have had the phone for 2 days now, and have gotten several compliments on the phone already, even a couple from rzr users. I have not run into any problems yet, and the downloading of music is fast and easy. Picture quality is great, Internet is fast. Everything about this phone is crisp and clear. I am very disappointed that sanyo is dropping their mobile phone line, at least the went out on top.
Only downfall...as you have read before...no removable memory.
posted by Labanon @ 12:30 AM

Friday, December 15, 2006
Unlocked Motorola RIZR Z3 Blue
Quad-band capabilities and flight-mode options make the MOTORIZA Z3 a perfect traveling companion, and high-tech features such as integrated 2.0 megapixel camera, quality media player plus expandable memory slot up to 1GB mean you'll never be bored!
Taking photos couldn't be easier with the Blue RIZR! There's a landscape viewfinder option, so you just hold the phone as you would a camera and your ready to shoot!!
Take super quality photographs and video and enjoy reviewing them on the full screen view finder.
Transfer your music collection to your phone for non-stop entertainment on the go!
Stay in touch in style with the Motorola RIZR Z3 in Blue!
posted by Labanon @ 12:36 AM

Thursday, December 14, 2006
LG AND PRADA PARTNER TO DEVELOP ICONIC MOBILE PHONE
Press Release
UNDER EMBARGO UNTIL 02:00 TUESDAY 12TH DECEMBER 2006

LG AND PRADA PARTNER TO DEVELOP ICONIC MOBILE PHONE
The debut in early 2007

Seoul, Korea. December 12, 2006 - LG Electronics, a worldwide technology leader in mobile communications, and Prada, one of the world's leading brands in the luxury goods industry, today announce an exclusive partnership to develop an innovative and iconic mobile phone.

The first Prada telephone by LG will combine high-end technology with avant-garde design offering the best in both style and performance. This forward-thinking product is the result of a different approach to the typical fashion designer and mobile phone manufacturer co-branding exercise. Leveraging on their respective expertise and know-how, Prada and LG have jointly explored and developed all aspects of this new product. The collaboration focused on the key elements inside the phone, such as software, user interface and music as well as its look, for example design and packaging.

The result is a unique, sophisticated and elegant phone, with an advanced touch interface which eliminates the conventional keypad.

The initial launch is planned for early 2007, with distribution starting in Europe (firstly in Italy, the United Kingdom, France, and Germany), followed by countries in Asia such as Hong Kong, Taiwan, and Singapore. The Korean version of the phone is scheduled to launch in the second quarter of 2007.

Read All
posted by Labanon @ 1:20 AM

Wednesday, December 13, 2006
Samsung BlackJack SGH-i607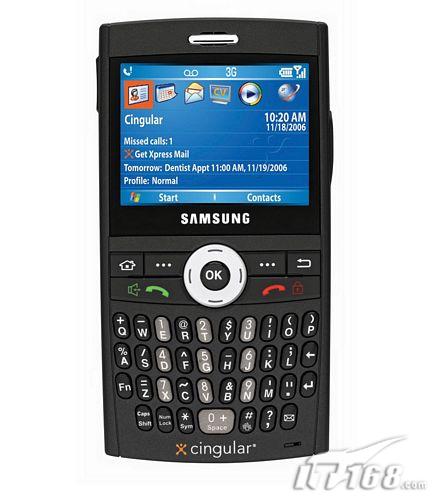 Picked up the Blackjack this morning and I must say it's a solid little SOB. As you'll read the matte finish makes it feel really nice in your hands. I like the jog wheel a lot too even though it's not adjustable (yet). The phone looks and acts a lot like the Q but the slimmer profile is noticeably better to work with. The menu's and layouts are well planned and like all my previous Smartphones it has the same basic sub-menus and categories. WMP10 is a lot nicer then 9 was and when you pop in a T-flash card (which does pop right out BTW) it asks if you'd like to find media. BT stereo works flawlessly with my HT820 for music but watching a hi frame rate movie was a little chunky. I need to try a lower frame rate with BT to see if it makes a difference. So far I've been using almost non-stop and the battery was only half full. I'm sure it'll take a lot of charging but hey with two batteries and an external charger I can make it work. Might even turn the external charger into a little "backpack" with straps or Velcro to give me a longer out of office time. So far the 3G work awesome in the East bay and screams through mobile web pages. It bounces off and on in my apartment but When the signals is solid it kicks EDGE of the well you get it....

PROs:

HSDPA is fast and solid
QVGA landscape great for web and media
XM radio totally rocks!
Keyboard layout is highly functional
BT stereo works really well
Built in Task Manager and Piscel Viewer
JAVA download app
Nice external speaker
Hot swappable Tflash
Jog button
Overall size and feel :)

CONs:

Stupid proprietary plugs
Battery life (manageable)
Center nav button to close to end and call
lacking LED flash (handy as a light)
T-flash vs. miniSD
No Wi-Fi

I'm very satisfied with this phone and would recommend it to any business people and students who want an all around practical phone with a lot of usability.
posted by Labanon @ 12:51 AM

Tuesday, December 12, 2006
nokia 7380

I originally bought the Nokia 7380 mobile phone because I wanted something really small and light, and the phone meets those requirements. I knew it didn't have a conventional keypad, but that's not really a problem because I always dial contacts and don't often need to type in a number. The majo ...
geclinke's full review | 172 words



I got a Nokia 7380 last week because the 7370 was only available on orange and I was assured that this one was 10 times better. There is no keypad and you text etc by using a spinning dial. I thought I would get quicker at it as I can text really fast on a normal phone but it's just so frustrating a ...
Nickie1985's full review

| 151 words




posted by Labanon @ 2:12 AM

Monday, December 11, 2006
Motorola SLVR L7c
well.. what can you really expect.. theres not much to say.. if your a solely wireless user.. and don't havea home phone.. stay away from this phone.. because 9/10 time.. your gonna have reception issues. its not the network.. its the phone.



PROS:
*phone looks great.. very sleek. and attractive
*EVDO works great.. wonderful data speeds, on of the best phones for web we've got
*UI in the phones easily navigated. features are great, vibrant screen colors and resolution

CONS
*signal.. is.. well.. disappointing
*Major bluetooth pairing issues, not able to find motorola devices even.
*When it comes to troubleshooting.. theres been some issues.. we'll just leave it at that
posted by Labanon @ 4:12 AM

Sunday, December 10, 2006
Nokia 6265i The best camera

Hello. I am an owner of the all black version of the Nokia 6265i. I purchased my phone and new contract from Ntelos here in West Virginia. They were the only carrier I found that sold the 6265i. Its price was approx. $130.00 with 2 year contract.

Pros are:

VERY attractive and unique looking

2 MegaPixel Camera, can take pictures while holding the phone straight up or sideways. It makes people think you are using a digital camera.

Bluetooth capabilities!

Beautiful bright screen with adjustable font colors

Every picture taken with phone can be used as wallpaper for the phones screen

Plays all MP3s and can use them as ringtones

The 24 MB internal memory can be upgraded using affordable Mini SD memory cards. The memory card slot is located at the very top of the phone. Just pop it up and insert card.

Great text messaging features, send pictures, video etc.

Calls can be answered by simply sliding the phone up, or ended by sliding back down. That feature can be turned on or off depending on the user.

Connects to computer with optional USB data cable, VERY handy if your computer is not bluetooth. Transfer all your music and pictures fast.

Call clarity is excellent with no static, even with only one bar of signal strength.
(Carrier is Ntelos. Go here to see my phone)

http://www.ntelos.com/wireless/phones/Nokia6265i_details.htm

Some Cons:

This phone has a lot of features so your battery will not last forever. My phone has lasted me between 2 and 3 days before getting to low battery. I am frequently using the camera, changing my ringtone, etc. all which uses the battery faster.

The 6265i does not have Instant Messenger (IM) support. That is what my home computer is for.

Overall this is a near perfect phone for me. I wanted both a new phone and a new digital camera, now I have both!

I connect easily with Bluetooth to my mom's Kodak Easy Share photo printer to print beautiful pictures worthy of an any album.
posted by Labanon @ 1:13 AM

Saturday, December 09, 2006
W800i. A rich experience
The W800i does just what it's suppose to do, and does it well.

I have been a die-hard Nokia guy, and after a experience with one of thier latest "smart" phones (6681, full of firmware problems), all I have to say is 'Goodbye Nokia!'.
Although the W800i is not a symbian, or windows smartphone based, it performs superb. Menus are fast to navigate through, and most important of all, no glitches along the way. This is really a breath of fresh air for myself, after dealing with some slow, feature lacking Nokia's.
I am not bashing Nokia, they just have a lot of catching up to do, and they have hurt their image(to people like me)by releasing inferior phones, but obviously they have some great ones too (6101, 6100, 6610, etc.).
Sony has really got their act together with this phone. So I will continue to enjoy this W800i for quite some time. Imaging, music, and a fully functional phone, that really works, in one compact size, and light weight (99 gms.), is definitely something to be commended.
Is it worth almost $500? Absolutely! I did a LOT of research, and this phone is the best at what it does. (until something better is released, which will probably not take long)

PROS:

Imaging; 2 mega pix, auto focus, excellent macro mode, editing (special fx). Built in flash, and it doubles as a flashlight! (not bad)

Media player; Easy to use interface for MP3's with playlist, fast forward, and rewind to go to a specific spot in the song your listening too.

Headset; Excellent sound quality, and adapter included, so you may use any headphones you wish (3.5 mm jack)

Memory; Pro Duo stick, 512 mb included, memory limited to 2 gb (as so I hear, may be able to use larger stick).Use the memory stick with a card reader for effortless transfer of files to and from your computer.Memory card may be removed/reinserted into the phone without the need to turn the phone off.(hot swapable)

Display; Bright and clear.

Cons; External speaker weak,but ok. Headset volume a little low,but ok too.
posted by Labanon @ 12:45 AM

Friday, December 08, 2006
Nokia N80 Hands On Review

Here is my Nokia N80 review, but lets start with reading what other people have said about this device.




Our opinion is that Nokia N80 is a brilliant business phone with powerful equipment and many great features. Probably many would not share our enthusiasm and will say that it's too big or uncomfortable to use but we consider these drawbacks as minor. Now the heavy price of the phone will be the main disadvantage that will dishearten many potential customers. gsmarena
As a first S60 smartphone, most users will embrace the N80 with open arms and use it for what it is, a very powerful smartphone (though do make sure you get it upgraded to the latest firmware, the review model with older firmware was not without the odd glitch).

But, from a personal viewpoint and with an emphasis towards photography and application compatibility, Nokia will have to excuse me if I still consider the S60 2nd Edition-powered N70 and N90 to be, on balance, the current devices for me... Allaboutsymbian
If Nokia could have doubled the size of the N80's battery, even at the cost of an additional 18g, I would have had no qualms about giving the device a highly recommended rating. But as things stand, the N80 earns only a "Recommended" rating because of the tarnish that the poor battery life puts on an otherwise shining example of mobile technology. mobileburn


Nokia N80 Hands On Review
Nokia's N80 was introduced with the second wave of Nseries devices in November last year along with the Nokia N71 and the Nokia N92. The N80 is a slider that packs quad-band GSM (850, 900, 1800 and 1900MHz), 1900 or 2100 MHz WCDMA support and 3G, it has 802.11g WiFi (WLAN) support, a 3 megapixel camera and a very high resolution screen. The phone runs Symbian OS 9.1 and is a Series 60 3rd edition phone. More technical specs can be found here: Nokia N80 tech specs.

Not familiar with the technical jargon above? Okey, one could also say the N80 is a phone that can do almost everything a phone can do these days. The phone has an operating system (Symbian) and you can install software on it. You can surf the web and read mail, and you can do that for free if you are near a free Wifi hotspot (the phone has WLAN, Wireless LAN). The N80 camera takes good pictures too and If you travel a lot you can publish those pictures on the web from almost everywere - the N80 is a real "world phone" (quad-band and WCDMA support).

N80 Size


At 9.5 x 5 x 2.6 cm closed, the Nokia N80 isn´t the smallest slider available, but I was suprised it´s smaller than the Nokia N70 (maybe somewhat thicker though and weighing 4 grams more).




Display
In comparison to N70 and the first Nseries devices, one of the biggest modification applied to the N80 seem to be the display. The N80 TFT display has 352 × 416 pixels (like in the N90 model) and 256K colors. You can clearly see the difference and the N80 display is excellent - crisp and colorful. The N80 has been critisized for its short battery life and that is why one asks how much bigger is the power consumption for this better display?

The N80 user interface uses the active display and has shortcuts to favorite applications and contains information about the network coverage, operator, battery status, date, time, radio channel etc.

Operating System
Nokia N80 runs on Series 60 user interface of third generation. I´m not 100 % shure, but I have a feeling the operating system works faster or at least as fast as the one I have on my N70 (Series 60 v2 Feature Pack 3). The people at gsmarena say that the N80 UI is generally faster and there is a performance increase in comparison to the previous 2nd generation S60 user interface.

Memory
The phone has 40 MB internal memory and a miniSD memory card slot (128 MB card comes along the sales package).

Music
Among the N80 applications you will find a new music player (same as Nokia 3250). The Music Player has an equalizer and supports playlists. The supported file formats are MP3, AAC, m4a, eAAC+ and WMA. The N80 also has a Real Player and a Flash player preinstalled. FM radio is also available.

The headphones that come with the sales package aren´t anything special and have a quite bad audio quality. I highly recommend using some third party headphones (N80 bundles a 3.5mm audio jack adaptor).

N80 Camera
I was a little disappointed with the picture quality of the phone. At 3 megapixel I expected the N80 camera's picture quality to be a lot better. I have been shooting with the Nokia N70 (2 megapixel) a lot and the photos taken with the N80 weren´t better, sharper or more colorful. Note here that the N80 camera hasn´t autofocus like the N90, N73 and N93 models.



No lens cover on this phone!

When reading Steve Litchfield´s N80 review I found out that the N70's sensor has its images processed 'onboard', i.e. by dedicated electronics inside the camera, whereas the N80's sensor passes its data to a chip on the N80's motherboard. The N80 has 3 megapixles, but the N70 sensor is better than the N80 one. Steve´s review also revealed that the sensor elements in the N80 camera are physically smaller and that the lens used is part of a moveable array ( i.e. swappable with the macro one). The N70 camera has a fixed lens.

At this point it´s good to remind you that image quality isn´t about megapixels. It about the lens quality (and if it´s plastics or glass) and lens size and sensor type etc. Megapixels is nowadays used for marketing and will not always say that much about the picture quality.

The camera settings including self-timer, sequence of pictures, different shooting modes, night mode, white balance (settings; AWB, Sunny, Cloudy, Incandescent, Fluorescent), exposure value -2 to +2, different color effects (sepia, black & white, etc.), three grades are available for image sharpness - Hard, Normal, Soft and you can adjust the contrast and color saturation too.

You can manually switch to macromode and then it´s possible to take pictures in a distance of 15-25 cm. N80 records video in MP4 video (352x288) and 3GP video (176x144).

I will write more about the N80 camera and ad pictures in the nearby future...

Connections
The are a lot of connections types available; Wi-Fi, UPnP, Bluetooth and IrDa. Nokia N80 works with Bluetooth Specification 1.2 (you cannot use stereo Bluetooth headset with the phone). USB 2.0 is also supported.

The UPnP technology allows seamless connection between different devices. With UPnP and using WiFi connection, you can transmit pictures to the television and music to your home stereo system etc. The other devices of course must support UPnP!

Battery
The weak point of the N80 is its BL-5B battery. If you use the phone a lot you should be ready to recharge it once a day.

I say: If you can afford the N80 and need a powerful multimedia phone packed with advanced features the N80 might be the phone you are looking for. This is a phone for early adopters, power users and gadget lovers. Personally, the look and feel didn´t impress me, but then again I´m not a fan of slider phones. To me and compared to my N70 the N80 didn´t impress me. If you are looking for a Nokia smartphone with Wifi then the N80 is propably a serious alternative, but if you don´t need it and want to save money I recommend the N70.

The good: Wifi, radio, MP3 Player and ok camera.
The bad: Battery life, price and size.

Nokia N80 Video Review





posted by Labanon @ 12:13 AM

Thursday, December 07, 2006
New Samsungs Coming To Verizon With TV, QWERTY
Information about two new Samsung phones for Verizon has recently slipped out. Though both phones run Verizon's standardized interface, they each offer new features. Other than the new features, some of the details have not yet been finalized. It is possible the phones may not launch with all the features listed below:
U620: This small slider will be one of Verizon's first phones with VCAST Mobile TV, Verizon's branding of the MediaFLO mobile TV service. In addition to TV, the U620 features EV-DO data with VCAST services, stereo Bluetooth, 1.3 Megapixel camera, MicroSD slot, and speech to text voice recognition.
U740: A dual-hinge clamshell design that can be opened normally for phone use or in landscape for data or texting. The design is similar to the D307 launched on Cingular however this features a more refined keyboard and a much slimmer profile. Features dual color displays, VCAST EV-DO data, a 1.3 Megapixel autofocus camera with flash, Bluetooth and MicroSD slot.
posted by Labanon @ 12:12 AM

Wednesday, December 06, 2006
Samsung Introduces Media Phones With Two Faces
Samsung today announced two phones with a screen and controls on each side. The New Ultra
220 screen on the media player side in a package 9.5mm thick. The Ultra Video adds UMTS Edition Music and Video each have a small screen and traditional phone keypad on one side, and a large screen and media controls on the other. Both phones feature tri-band (900/1800/1900) GSM/EDGE, 2 Megapixel cameras, MicroSD slots, stereo Bluetooth and a new media controller with a "sweeping touch" interface. The Ultra Music has 100 MB memory, FM radio and 176 x 2100 and features 400 MB memory, a QVGA screen on the media side, MP4 and DIVX video playback and a hinged design that allow the screen to be tilted up for viewing on a table or desk. The Ultra Video is also a slim bar style phone only 10.7mm thick.

source: Samsung

posted by Labanon @ 12:26 AM

Tuesday, December 05, 2006
Sony Ericsson W810i
The good: The Sony Ericsson W810i is augmented by an attractive design; an improved keypad; great music quality; and a generous range of exceptional features, including Bluetooth, a 2-megapixel camera, an MP3 player, a memory card slot, and a speakerphone.

The bad: The Sony Ericsson W810i suffers from staticky call quality and glitchy music transfer software. Also, it lacks a Bluetooth stereo profile, and the integrated memory is limited to 20MB.

The bottom line: Sony Ericsson succeeds again with its third Walkman phone for the U.S. market, but the W810i brings only minor improvements over earlier models.





Over the past couple of years, Sony Ericsson has been something of an enigma in the cell phone world. Not only has it introduced far fewer phones into the U.S market than many of its rivals, but it doesn't let the absence of a carrier sway it from rolling out new models. More important, the company has shunned the industry's major trend--skinny phones--in favor of high-featured, well-performing models. Both the Sony Ericsson W800i and W600i fit this bill, and the company now introduces America to its third Walkman phone, the W810i. Encased in an eye-catching black, the W810i offers all its predecessors' high-end, powerful features, such as a high-resolution camera, Bluetooth, and a media player, while making a number of design changes. Overall, it's a quality phone despite some minor performance issues, but it's not a huge upgrade over the W800i. Cingular now offers the W810i for a very reasonable $149 with service.
posted by Labanon @ 2:18 AM

Nokia Announces New Phones And Joins The Slim Club
Nokia today announced three new handsets that will work in the US, each of which has at least one notable quality. One is an inexpensive S60 3rd edition phone, one a slim, stylish candybar in stainless steel, and the third is a revised UMA clamshell that is headed for US shores. All three are expected in the first quarter of 2007.
6290: An S60 smartphone in a small clamshell body with interchangeable "quick covers." Features a 128 x 160 external color display with 3 navigation keys and a large QVGA internal display like the N75. Quad-band GSM/EDGE plus UMTS 2100. Features 2 Megapixel camera with flash plus internal video call camera, 50 MB built-in memory and MicroSD slot, Bluetooth, IR, FM radio and stereo speakers.
6300: A stylish stainless steel candybar that's 13mm thick. Triband GSM/EDGE (850/1800/1900) with a 16.7 million color QVGA display, 2 Megapixel camera, Bluetooth, MicroSD slot, FM radio and media player.
6086: Nokia's second UMA clamshell has a number of downgrades from the 6136 but adds Bluetooth to quad-band GSM/EDGE and Wi-Fi. Features a monochrome external display, VGA camera, MicroSD slot, media player and FM radio.
Source:

Nokia
posted by Labanon @ 12:29 AM

Monday, December 04, 2006
Motorola V3XX Coming To Cingular

The FCC has approved a version of Motorola's 3G RAZR, the V3XX today with specific references to Cingular in the User Manual. The model that was approved has a quad-band GSM/EDGE with 850/1900 WCDMA, also indicating it is bound for Cingular. In addition the V3XX has a 1.3 megapixel camera, MicroSD slot, stereo Blueooth, and support for streaming audio and video. However there is no mention of Cingular's new music syncing service. Surprisingly, the pictures and diagrams clearly show the phone has an internal camera for video calling, but the manual does not mention the camera or video calling at all. Cingular has not officially announced the RAZR V3XX, so there is no price or release date for this phone yet.
posted by Labanon @ 12:30 AM

Sunday, December 03, 2006
Nokia E62 Review
The E62 was created for the user who is always on the run — for the person who needs first class access to their e-mail, appointments and documents in a portable device of manageable size.The E62 is a quad band, GSM/GPRS/EDGE world phone which utilizes the 850/900/1800/1900 MHz bands. It comes with a big, hi-res color screen (320 by 240 pixels) and a full QWERTY keyboard on the front. It also has a dedicated e-mail button and flashing message light.
The E62 goes with a tried and true design that makes it easy to communicate at a moment's notice. The large, 320 x 240 screen supports a whopping 16.7 million colors, while a QWERTY keyboard just below the screen makes typing out emails, SMS messages, notes, presentations, and more a breeze. A center "thumb stick" allows you to quickly navigate the E62's menus and features, while soft keys on either side of the stick make it easy to quickly access important phone and productivity functions — all of which make the E62 a snap to use one-handed. On the bottom of the phone, you'll find a dedicated headset jack and a mini-usb connector. The phone's charging port and infrared sensor are also located on the bottom of the phone. Under the battery cover, you'll find a hot-swappable miniSD slot, as well. The device ships with 75 MB of internal memory, as well as a 64 MB miniSD card.
Nokia E62 specs
* runs on Symbian 9.1 and S60 3.0
* both GPRS and EDGE for data
* GSM bands 850/1900
* Bluetooth 1.2
* screen is 240×320, 256,000 colors, TFT
* miniUSB instead of Nokia's usual PopPort
* Push email (like the Blackberry)
* USB Mass Storage Mode, so you can mount your phone as a hard drive
* QuickOffice for viewing/editing Word/Excel/Powerpoint
* Screen Export feature lets you run Powerpoint presentations off the E62
with compatible projectors
* Positioning and Navigation apps that work with Bluetooth GPS devices
Review By Pcmag

The E62 runs the latest version of the Symbian operating system, version 9.1, with the Series 60 version 3 interface. If you've ever used a Symbian device, you'll immediately feel the difference. The E62 is much quicker and more responsive than previous Symbian-based phones such as the Nokia 9300 and 7610. The Symbian OS is tremendously popular overseas, and it has a thriving ecosystem of third-party software. Although most of these applications were written for earlier versions of Series 60, updates for the E62 already exist.
Review By Mobiletechreview

The power button is located on the upper right face and it's so small that you'll likely never accidentally press it. The blue LED that indicates new email is at the upper left. There is no LED that flashes when the phone is asleep. As you'd expect, the earpiece is dead center above the display while the loudspeaker (for speakerphone, ringers and alarms) is on the phone's left edge. The IR port is located somewhat oddly on the bottom edge next to the mini USB connector and the volume up/down and voice recorder keys are located up on the upper left side. The volume controls fall perfectly under your index finger when holding the phone to the ear with the right hand.
Review By Slashphone

Productivity-wise, the E62 is ahead of the pack for its price point. I was impressed to find the Symbian 9.1 OS was fully-equipped with applications designed to view, create and edit documents in Microsoft Office (including Powerpoint presentations), a feature not available on the much-hyped Motorola Q. The PDF reader was also a help, but let's talk about the number one reason to buy an E62- complete mobile email support. Setup is a breeze, an email hot key provides one touch access, and a light at the top right corner of the E62 notifies of incoming emails.
Review By Brighthand

The E62 is close in design to the Nokia E61 that's sold in Europe, but with a few key differences. The E61 has support for the European 3G networks, while the E62 does not support any 3G. The E61 has Wi-Fi, while the E62 doesn't. On the brighter side, the E62 dispenses with the proprietary Nokia "Pop Port" for audio and USB, substituting standard mini-USB and 2.5mm audio connectors. Otherwise, the devices are identical in design and specs.
Review By Infosyncworld

The E62 packs in some impressive messaging options, including support for push e-mail via Good Messaging, BlackBerry Connect, and Microsoft Exchange servers, as well as standard POP/IMAP personal e-mail accounts. You can also download the Xpress Mail desktop redirector to your PC, although we experienced some connectivity hiccups during our testing. We were surprised and disappointed that the E62's messaging app doesn't automatically list possible matches from your address book as you type in the "To" field; instead, you must click away to the search window and then manually select contacts.
Compare the price at Shopper.Cnet
posted by Labanon @ 2:23 PM

Nokia 6290 3G Smartphone Review
The Nokia 6290 is designed to meet the needs of the hectic professional looking to balance a hectic business and social calendar. With a number of practical new features, multiple alarms and handy Quick Cover access keys which enable instant access to a wide range of the device's useful features, including an interactive world travel application, consumers can use their mobile for many things. With constant connectivity via 3G technology, the Nokia 6290 ensures productivity remains a priority, providing email access, as well as connections to favourite websites. The Nokia 6290's mobile search application ensures the leading search engines and location-specific services are only the touch of a button away.
Nokia 6290 Features :
* 2 megapixel camera with 4X digital zoom
* 2.2″ QVGA 16M colour internal screen
* Rich email functionality which supports attachments such as PPT, PDF, Word and Excel.
* MP3 music player with excellent stereo surround sound
* Two way video calling
Review By 66mobile

The Nokia 6290 is designed to meet the needs of the hectic professional looking to balance a hectic business and social calendar. With a number of practical new features, multiple alarms and handy Quick Cover access keys which enable instant access to a wide range of the device's useful features, including an interactive world travel application, consumers can use their mobile for many things. With constant connectivity via 3G technology, the Nokia 6290 ensures productivity remains a priority, providing email access, as well as connections to favourite websites.
Review By 3g.co.uk

The Nokia 6290 is Nokia's first mid-range smartphone to offer S60 3rd Edition Feature Pack 1. Announced at the Symbian Smartphone Show in October, S60 3rd Edition Feature Pack 1 opens up a world of possibilities, highlighted by an enhanced single browser that supports both full Web and mobile optimized content. There is also available a wide variety of add-on applications that can turn the phone into a highly personalized, versatile device. The applications range from games and entertainment to powerful business and navigation applications.
posted by Labanon @ 1:45 PM

GIGABYTE g-Smart i128 Communicator Review
The handset made for PDA lovers- with a pure PDA outlook, g-Smart i is designed to be easy-to-hold and easy-to-operate.Using the latest Windows Mobile5.0 AKU2 OS with Microsoft Messaging & Security Fature Pack (MSFP), it fulfills power users'needs in every way. As the second generation of g-Smart, g-Smart i not only has all the attractive features,but also provides some more applications, such as Profile and Pocket Ghost..
Wise Talk
Ever tired of being chased everywhere because of mobile phone? Wise Talk is the 100% in-house built software which gives to the freedom of deciding when to pick up
A call or not back to end users. The Overdub feature, which can simulate the background noise, camouflages your actual location by letting people who call you to hear
The sound of airport or concert or meeting room. Try it, you will love it. The Answering Machine, which can playback pre-recorded messages, can serve you best for not calling back to people who you prefer not to waste money or time to call back. Once there is a call coming in, you can decide which message to let them listen to if you are not in the mood to pick up this particular call.
TV Roaming
The great feature supports 3 TV standards in the world: NTSC/PAL/Secam. This means that you will be able to watch the free terrestrial broadcasting almost whichever country to you visit. Exceedingly there are more and more people who can understand at least 2~3 languages. The roaming capability gives end users immense freedom across the borders.
98 Languages supported
The language limitation of Windows Mobile has long been a constrain on people. While web-based translation service has been on for such a long time, user are still being deprived of the freedom of browsing the web content in different countries. And not just internet, also the office documents. With 98 languages supported, now you can either browse all Pocket Office document without language constrain. With additional support from Wifi or GPRS, you will be able to utilize a lot of available internet on-line translation services.
Stereo Bluetooth
Still use wired-headset? Try this A2DP(stereo Bluetooth connection) from GSmart. You will be able to listen to your favorite MP3 music from GSmart without a lot of wire hanging on your chest or crawling around your neck.
FM Radio
Wide range FM radio. And you can also record your favorite channel by this great device from Gigabyte Communications!
Review By Mobile-Review

GIGABYTE Communications is making first steps on the market of Windows Mobile-based communicators. Despite being a newcomer to the market and lacking experience, the manufacturer already has great products and announcements – the first and the only communicator with the analog TV-receiver, the first VGA-communicator. The cooperation with operators pays off for GIGABYTE as well - O2 XDA Stealth is GIGABYTE g-Smart packing its filling into the operator's custom casing (revamped, different materials used, set of additional operator's applications).
Review By Theunwired

With its modern retro design concept, GSmart i120 further fulfills the mobile luxury demands of elite users. GSmart i120 features sophisticated applications and mobile entertainment features. Powered by Windows Mobile 5.0 AKU 3.0 Push E-Mail technology, GSmart i120 keeps elite mobile users connected with real time E-Mail while traveling worldwide. GSmart i120 may provide efficient and speedy mobile internet access via WIFI or triband GSM/GPRS. Also, users may enjoy multiple entertainment features, such as Mobile TV and TV recording. In fact, GSmart i120 supports three popular TV standards worldwide: NTSC/PAL/SECAM. Furthermore, users may watch and may record their favorite TV program or game while traveling on-the-go.
Review By Pdasnews

In addition to communication and mobile entertainment values, GSmart i120 offers two intelligent, personalized built-in features: Wise Talk and Smart Input. GSmart i120 Wise Talk, an exclusive feature, offering users the freedom to create a virtual background scenario upon answering the phone call. GSmart i120 Wise Talk, which can simulate the background noise, may camouflage the user's actual location by providing a selection of pre-set special background effects. For instance, GSmart i120 Wise Talk may create a virtual scenario with sounds at a concert, in a meeting room, or at an airport.
No word on pricing or availability.
posted by Labanon @ 9:11 AM

About Me
Name: Labanon
Home:
About Me:
See my complete profile
Previous Post
Archives
Related Links
Links
Powered by